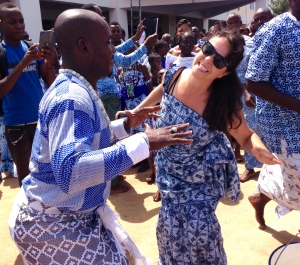 Sarina is the Director of the International and National Arts Programming for Childhood Now.
Sarina Condello B.FA, B.Ed. M.Ed., dancer, director and arts curriculum developer, has traveled the planet, exploring how communities and cultures express themselves through the performing arts. 
By combining dance and theatrical elements from around the world, Sarina has invented a teaching methodology and international arts program that inspires and galvanizes children and educators everywhere she teaches. Her philosophy is based on the importance and relevance of unleashing the child's creativity, developing resiliency and exploring the power dance and drama by connecting children to cultural, ecological and personal stories. Sarina is the founder and director of Learning by Heart Studio, a performing arts school for artists, teachers and students, that has been in operating in Toronto for the last twenty years. Since 2009, Sarina's two Childhood Now programs, The Big Little Caravan of Joy and Painted Turtle Arts Camp, have reached 30,000 children in Africa and Northern Canada.